"Behold, children are a heritage from the Lord,
The fruit of the womb is a reward.
Like arrows in the hand of a warrior,
So are the children of one's youth."
My heritage.
My "fruit".
My reward.
My arrows.
When I learned about
Jami's new link up
all about
encouragement
,
I immediately thought of my girls and the men the Lord has brought into their lives.
They are an answer to this momma's prayers and that
encourages me.
When the Lord interrupted my life and saved me 15 years ago, my girls were small.
As I grew in His grace and knowledge, one of the first things
He burdened my heart
with
was praying for my girls future spouses. That seemed so far off at the time but I have been obedient.
Their dad and I had certain boundaries set for our girls when it came to our version of them dating. We firmly believe that the Lord has created someone just for them that He has chosen for them to share this life with as they serve Him. With this conviction,
we strongly disagreed with casual

dating

.
We felt that with each "boyfriend" and break up, they take a little piece of our daughters heart with them. We taught our girls to
trust the Lord
and
His timing
and He would reveal and send their loves that He had designed for them.
This wasn't always received with joy from our daughters...courtship as we called it. They didn't like the term too much. They will tell you, at times they felt weird or left out and different. And at times they rebelled...sometimes in actions ..sometimes in attitude.
Now that they are older, I think if you asked them, they would tell you how thankful they are for those boundaries and some of the heartbreak it spared them. They have endured the
1000 piece puzzle
that was required we all put together as a family with the young man so we could get to know him before we entrusted our daughter into his care for a "date". (I'll have to share more about that at another time!)
The young men the Lord has sent into our family and our daughters lives are truly the answers to this momma's prayer. I asked the Lord for specific things.
That he would love the Lord with a passion

That he would be pure and honor my daughter's purity

That he would have a passion for God's Word and live his life according to its standards.

That he would be the leader in my daughter's home after they were married.

That he would serve the Lord in ministry, whether that be as a vocation or lay person.
Christopher
was the first to ring the doorbell with a puzzle.
Elizabeth was 15 and not allowed to ride anywhere alone in a car with a boy.
Chris felt like she was worth the wait.
They were married 4 years later.
He is a full time student minister, has mad skills in just about everything
and
I love him
like I gave birth to him myself.
Marcus
was the next one to fall in love with a Holden sister.
He brought the puzzle over when Lydia was 17 and we had quite a blast putting it together....they were ready to have their first official outing that wasn't with a group and they knew they had to put the puzzle together first. I will say... they were diligent. A few months later and many conversations and questions with Marcus from me and her daddy, they completed the puzzle and went on their first date!
Lydia is 20 now and eagerly awaiting a proposal.
I'm in no hurry but she fears she may become an "old maid" soon. lol
We love Marcus. He's a full time student minister, a master of any instrument..(I mean this boy has skills like crazy), puts up with me constantly asking him to serenade me, he is a huge super-hero nerd and that is kinda rubbing off on me.
We will be delighted when the Lord unites these two..
.

in His timing
.
Then last but certainly not least, there was
Blake

.
This really tall guy with super big feet and a stomach that has no bottom who fell in love with our baby and showed up at our door holding a puzzle.
Blake has a heart for the Lord, he's a preacher of the Word in the pulpit and with his life. My hubs has put him on the spot on several occasions to preach at our church and he never hesitates...he has always had a word in season and out of season. He's an amazing ball player, has a line from "Nacho Libre" for just about any life situation and really loves to eat.
I look forward to seeing what the
Lord has in store for his future.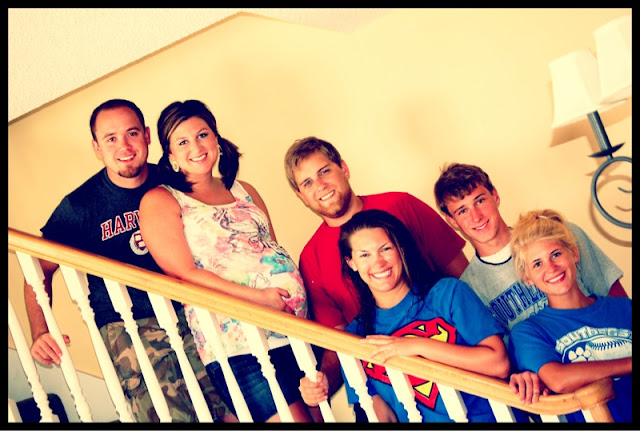 This week as we have all been together at the beach, 24 hours a day, all three girls and their guys, I have been overwhelmingly encouraged by the realization of the
rewards of persevering prayer.
Hearing their conversations when they are not even aware I'm listening... talking about ministry and the things that they are excited about...things that are Christ centered....
well, lets just say this
momma's heart is overflowing.
It hasn't been a perfect journey by far and we are so
not
perfect parents.
My girls have messed up.. and me and their dad have messed up too... much more than the things we've done right... but God has honored our prayers and used every mistake along the way all for His glory.
I used to think we were actually great parents but God stripped me from that pride and revealed to me it is
all by His grace.
Seeing God's grace at work in the lives of these six people
encourages me.
and to read about "God things" going on in our families check out Christina's sweet blog.
Stephanie :)