A couple of weeks ago I posted this picture.
That's Marcus and Blake moving in my "new" vintage sofa.
(And thanks AGAIN to Jason and Sherri for the blessing!)
I was out of town staying with my daughter helping her after the arrival of their new baby.
So... I wasn't there when they moved it in.
I don't like missing out on stuff.
Especially when it comes to my "nest".
So I made my girls take pics with their cell phones and send them to me...
Honestly, I wasn't feeling it at first.
It takes me a little while to adjust to change.
There was just too much going on with all the colors.
...And she was looking a little "frumpy".
But then.....
I removed the skirt so you could see her pretty little legs.
Now I'm starting to feel it...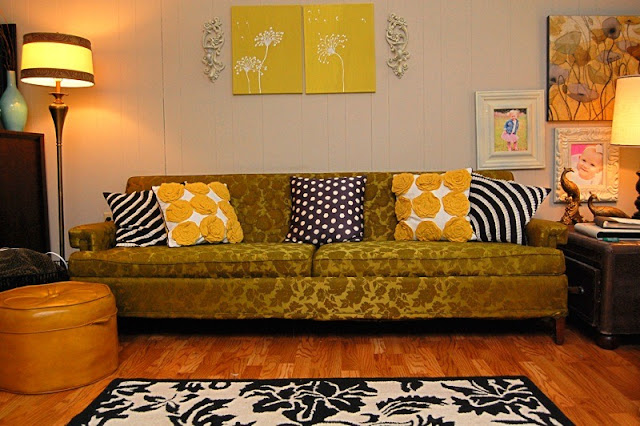 Ain't she just the prettiest thing?
What? You mean you don't name your furniture?!
And she's comfortable too.
Don't ya just want to plop down on that?
Even us tall folks can stretch out and still have room.
And yes, that
is
a gun propped up in the corner. What? I guess you don't do that either!
Well, I wouldn't do that either but I do share this home with my husband, who I adore, and for some reason
that's
where he likes it.. I got one in the dining room too...
just another part of living in the country...You never know what you gotta "take down" fast.
Did I mention I shot my first armadillo a while back? Pesky varmints!
Anyways....back to Eleanor.
Eleanor brightened things up so much I had to get some new curtains
to match her bubbly personality.
These turquoise beauties are from Target via Dirt Cheap of course.
$4 a panel! Yowza! I love it.
And while I'm professing my love of Dirt Cheap again
I must say that it came through in a
big way
this last trip...
(
For those of you who have no idea what a Dirt Cheap store is... it's a salvage store that sells all kinds of stuff REAL cheap. Stuff from Target, Kohls, Sears, Walmart....just about anywhere. The stuff that people change their mind on and return to the store...it often ends up at Dirt Cheap. But you gotta dig for it. It's wonderful. By the way...that rug came from DC...$20 from Target! Cha Ching! love it!)
I went in looking for turquoise panels and when I found one I was thrilled..
but to find
ALL four
that I needed...well that is
amazing.
And if that wasn't enough
...my hubs was in need of a release for his bow.
As in bow and arrow stuff to deer hunt with....
And you guessed it....he found one. At Dirt Cheap. That just
shouldn't
happen.