I've been thinking about my brother Greg lately..
this month makes 8 years since his death.
This is a post I wrote last year while at the beach and I just felt compelled to share it again. The dynamics of our family have changed so much since last year when I wrote this that it just rings even louder to me the importance of seizing each moment.
Lord help me to not take this life You've given me for granted...
*****************************************************
Some folks may say a kiss is a kiss is a kiss.
I would disagree.
There are so many degrees of a kiss.
The first kiss.
The good bye kiss.
The peck on the cheek- I'll be back soon kiss.
The "Oh my goodness I 'm falling in love" kiss.
The "You're so cute I could eat you up" kiss.
I could go on and on....
It is so sad to me that some people go through life without a lot of kisses.
Our family is a kissing family. We kiss all the time.
I kiss my girls. I kiss my mom. I kiss my grand-babies.
And I kiss my husband. A lot. I mean, kissing is one of our favorite things to do.
My girls have grown up seeing us kiss. They have seen their daddy plant smacker-roos on me their whole life...at home, in public, in the car...where ever.
I'm thankful they consider this the "norm" between a husband and wife.
Anyways, we've had a lot of kissin going on this week..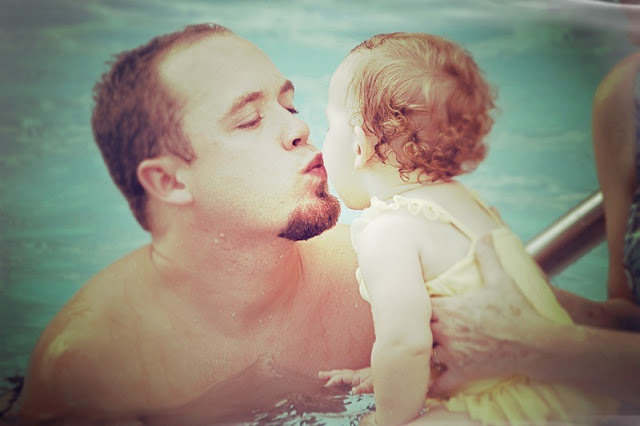 All this kissing got me thinking..
Yesterday was the 7th anniversary of the death of my brother, Greg.
He was tragically killed in a car accident at the age of 39.
Oh, was he a kisser! That boy was always affectionate.
You were gonna get hugged and you were gonna get kissed when he was around.
I miss his hugs and kisses.
I thought he would always be around with his infectious laugh that could always make me smile.
If I had known that was the last time I was gonna see him,
I would have hugged him tighter.
So today, my advice to you is this..
Go kiss the ones you love.
Go give them a big sloppy smooch out of nowhere....
just because you can.